Tips from the Top Podcast Episode #9 Now Streaming!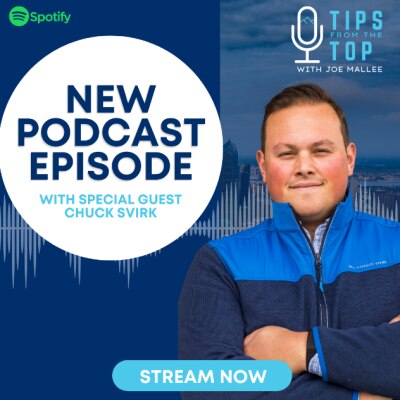 Our Summer episode of Tips from the Top with Joe Mallee is now available to stream. This episode features Charles Svirk of MassMutual Ventures.
Will technology replace human beings? Can humans deliver Amazon-like service? Charles Svirk and Joe Mallee discuss why it's vital that our financial professionals are backed by trusted technology.

Chuck Svirk is a natural-born entrepreneur, based out of Boston. He is currently an investor at MassMutual Ventures, partnering with startups focused on fintech, insurance, cybersecurity, and enterprise software. As a Principal at MassMutual Ventures, Chuck's charged with sourcing new investment opportunities and management of the existing investment portfolio. Prior to joining MMV, Chuck served as an Investment Associate at Clear Brook Advisors, advising family offices on illiquid fund investments in venture capital, private equity, and hedge funds. Before Clear Brook Advisors, Chuck co-founded Photos to Photos, Inc., a venture-backed mobile gaming studio located in Boston. Prior to that, Inc., Chuck served as an Associate at Siemens Venture Capital, where he helped support and source investments in healthcare. Chuck graduated cum laude from Northeastern University with a BS in business administration, concentrating in finance and entrepreneurship.
Listen to Chuck's episode on Spotifyor on our podcast website
——
Useful links from this episode:
Stay Connected with Us:
Interested in partnering with a firm that supports the modern financial professionals? Contact our Recruitment Director Erica Ng to learn more!
CRN202508-2881679