Tips to curb your spending this holiday season
Tips to curb your spending this holiday season
Shelly Gigante specializes in personal finance issues. Her work has appeared in a variety of publications and news websites.
Posted on Nov 26, 2021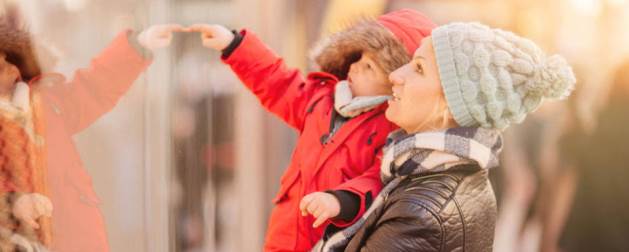 The holiday season is in full swing and shoppers are busy filling their carts with the perfect gifts for the special people in their lives. If history is any guide, however, many are also spending beyond their means.
During last year's gift giving season, about a third (31 percent) of all consumers took on debt to pay for holiday gifts, travel, and entertainment — borrowing an average of $1,381, according to a 2020 survey by Magnify Money. More than half used credit cards to foot the bill and the vast majority indicated they would not be able to pay it off within one month, which translated into interest charges.1
MassMutual's 2021 consumer research suggests similar spending patterns in effect for this holiday season. Many Americans said they expect to spend more this holiday season due to travel (34 percent), in-person holiday events (34 percent), and big-ticket experiences such as shows and sporting events (23 percent.) And a majority (59 percent) of those who said they plan to pay for holiday purchases with a credit card this year would not be able to pay off incurred debt for at least 6 months. 2
That's a costly mistake that you can avoid, financial experts say, by:
Indeed, there's still time to avoid a "holiday hangover," the sticker shock many experience when their credit card bills comes due in January, by keeping your spending in check, said Marguerita Cheng, chief executive officer with Blue Ocean Global Wealth in Gaithersburg, Maryland. Digging out of debt is no way to start the New Year, she pointed out.
"I do think folks overspend this time of year," she said. "Some people are impulsive. Others honestly don't realize they're overspending. It's even happened to me. Not because I neglected to plan or exercise self-control, but because I didn't take into account the gifts I give for all my kid's activities — the coaches, the piano and karate teachers, and religious education teachers."
Cheng is not alone. Americans expect to spend an average of $837 on gifts during the 2021 holiday season, roughly in line with last year, according to a recent Gallup poll.3 But actual spending can be far greater, depending on one's income, financial discipline, and expenses. Travel costs, new clothes for year-end social events, and hosting holiday parties doesn't come cheap.
If you count yourself among the many who regularly overspend this time of year, you'll need a three-pronged strategy to stay out of debt.
That begins with a budget
Before you buy another item, do some math to determine how much you can comfortably spend — without going into debt. The goal is to avoid putting any charges on a credit card that you can't pay off in a matter of months. (Related: Handling credit card debt)
Some financial experts suggest never putting anything on a credit card that you can't pay off in 12 months or less.
Remember, that $1,000 credit card balance in January will take nearly 4 years to pay off and cost you an additional $397 in interest if you make only the minimum monthly payment (roughly $30), assuming an 18 percent interest rate, according to CreditKarma's credit card interest calculator.
Once you arrive at a realistic budget for holiday spending, never waver, no matter how enticing those layaway deals may be.
Make a list
Perhaps the best way to limit your spending during the holiday season is to plan ahead.
A little time spent brainstorming budget-friendly gift ideas for each person on your list can pare your costs significantly. A premeditated list gives you opportunity to search for sales, but it also mitigates the urge to impulse buy, which is all too common when shoppers wait until the last minute.
Carefully considering your gift choices also allows time for do-it-yourself projects, like giving a framed photo or personalized recipe book that costs much less, but can mean so much more. (Related: Low-cost gift ideas)
As you shop, don't forget to stay organized and save your receipts. If you change your mind on a gift idea later on, return the first item you purchased for a refund. Don't just let it linger.
Pay with cash
Be aware that using credit cards, which are easy to swipe at the checkout counter or online, may contribute to overspending.
Thus, many financial professionals suggest that those who struggle with debt adopt a policy of paying with cash for discretionary expenses. That's especially good advice for binge borrowers during the holidays, said Cheng.
By avoiding future interest charges, and possible late fees, you also liberate your disposable income to fund other goals, such as increasing your retirement contribution, saving for a down payment on a home, or paying for a bucket-list vacation. (Related: Budget essentials)
You can also potentially use your savings to build up cash reserves throughout the year so you can pay for next year's holiday shopping without going into debt.
It's fun to give gifts during the holiday season, but don't get in over your head.
By setting limits, planning ahead, and paying with cash, you can put financial worries behind you and focus on what matters most this time of year — spending time with those we love.
Discover more from MassMutual…
Managing debt in a balanced way
Good debt vs. bad: Keeping it in check
Need a financial professional? Find one here
__________________________________________
1 Magnify Money, "Holiday Debt Averaged $1,381 in 2020, Reaching a 6-Year High Amid Pandemic," Dec. 28, 2020.
2 MassMutual, "2021 Holiday Finances Consumer Spending & Saving Quarterly Index: Americans plan to spend $1,243 on average on holiday-related purchases this season."
3 Gallup Poll, "Early U.S. Holiday Spending Plans Look Similar to 2020," Nov. 2, 2021.
CRN202311-284687