Tips from the Top Podcast Episode #11 Now Streaming!
Tips from the Top Podcast Episode #11 Now Streaming!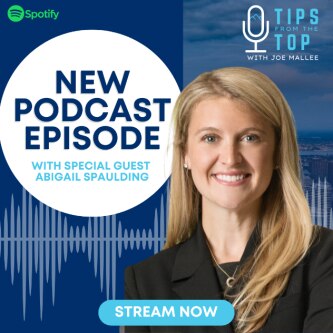 "Financial Professional" isn't your first choice of career path? It wasn't Abby's either, now she is a leading female advisor.
In this episode of Tips from the Top, Joe introduces longtime friend Abigail (Abby) Spaulding. Abby is president & co-founder Continuum Planning Partners.
Abby discusses how the advisor-client relationship differs from other industries and how it can be an intimate relationship that goes beyond transactions. Furthermore, she speaks to how hungry the market is for fee-based planning as well as her own personal standards for clients that are always evolving with their needs.
Abby is the current Board Chair of Nashville Salvation Army, past Board Chair of a local charter school named Rocketship, is the past president of Women Engaging Business, and the Harpeth Hall Alumnae Board.
Listen to Abby's episode on Spotify or on our podcast website.
——
Useful links from this episode:
Connect with us:
Interested in partnering with a firm that supports the modern financial professional? Contact our Recruitment Director Erica Ng to learn more!
CRN202601-3652924