Tips from the Top Podcast Episode #8 Now Streaming!
The May podcast episode of Tips from the Top with Joe Mallee is now available to stream. This month's episode features special guest host, PJ Shevlin from the Tenth Dot Podcast.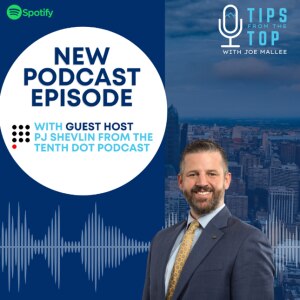 In this episode, our interviewer, Joe Mallee, gets interviewed! Joe sits on the other side of the mic as PJ Shevlin, Managing Partner of The Tenth Dot discusses how his up bring molded his values in his personally and professionally and how he naturally gravitated towards leadership with the help of great mentors along the way.
Please enjoy this candid conversation on the very first episode of The Tenth Dot podcast hosted by PJ Shevlin.
Useful links from this episode:
Stay Connected with Us:
Wrap Up:
Interested in partnering with a firm that supports the modern financial professionals? Contact our Recruitment Director Erica Ng to learn more!
CRN202505-226889